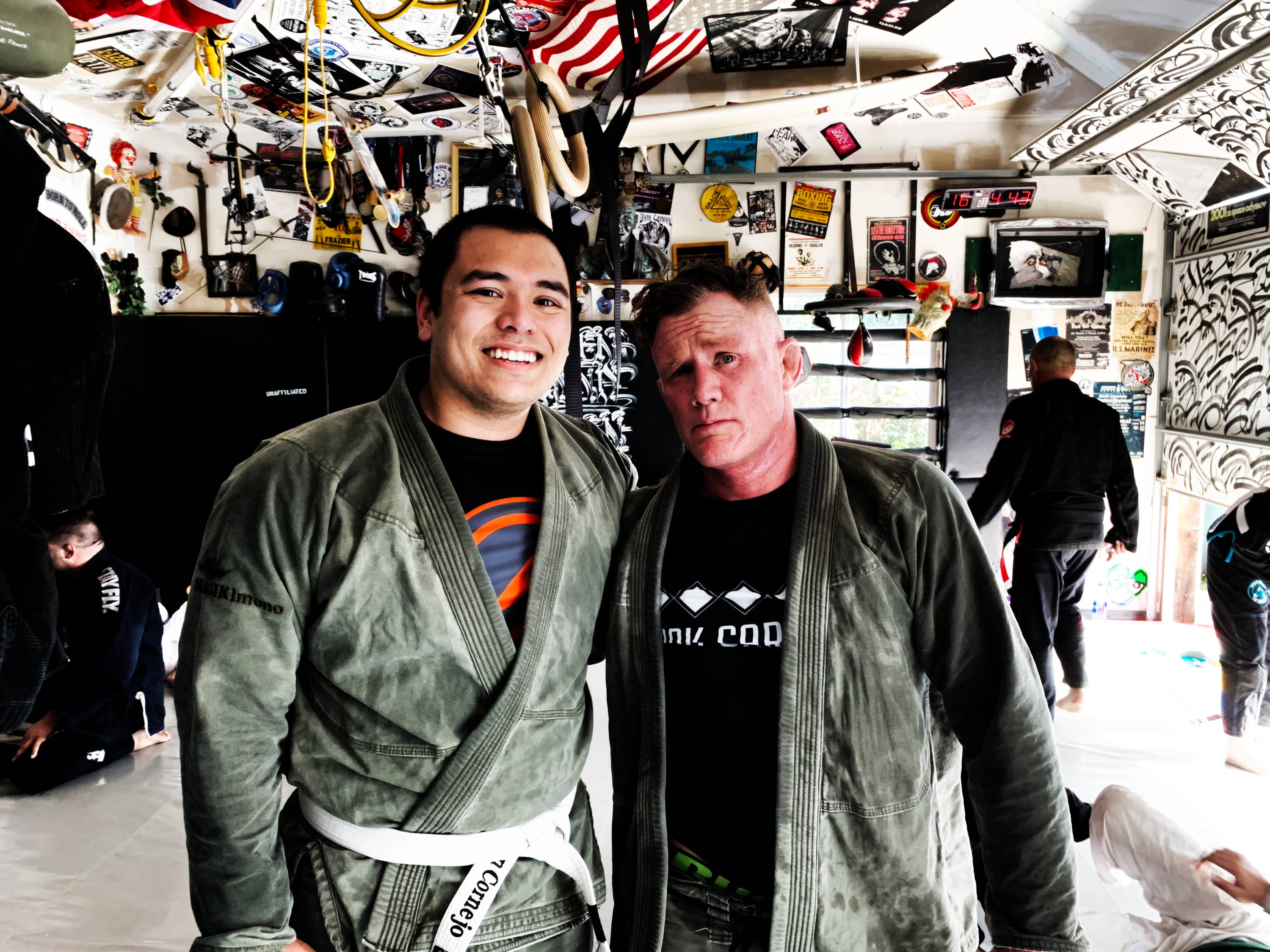 ---
Interview:
When did you first get into Jiu Jitsu?
I have been consistently training in Jiu Jitsu for 1 year, but it started well before that. I have a friend named Blake Klassman(who just received his well deserved Black Belt) who brought me to his Jiu Jitsu academy 6 years ago. I felt inspired by the class, but was still so unfamiliar with the sport as a whole and couldn't find the resources to train when I went back to school. In hindsight, that is time that I wish I could have committed to this exciting sport.
Did you know right away that this was something you wanted to pursue daily, or did it gradually evolve?
It was something that was interesting to me right away. I played chess throughout middle school and high school and enjoyed the challenge that problem solving presented. I have been doing athletic activities since I was 4 and this was the perfect opportunity for me to combine both. From a physical perspective it challenges me by putting me into uncomfortable positions. From a mental perspective, I was also challenged to find a way out of those uncomfortable positions. It is a win on both ends.
Tell us about the feeling you experience when you are doing Jiu Jitsu.
Jiu Jitsu is unlike any sport I have done before. I was relatively competitive in sports growing up, and found quite a bit of success in powerlifting for the last 6 years, but this is different. As a community, everyone wants to help each other improve because it also helps their own progress. I am an extremely competitive person and in the past this has caused me to have a negative view on losing. Other sports present very black and white outcomes where one is celebrated and the other is dismissed. In Jiu Jitsu, whether it is at practice or in competition, I find so much value regardless of outcomes that I can only grow from everything around me.
Could you picture yourself doing anything else?
At first I looked at it as a hobby. Something to loosen me up and get me active after a grueling powerlifting career. But the deeper I get into it the more I find myself prioritizing it. I even manage to schedule training sessions on vacations with different schools who welcome me with open arms. I am not sure there is another activity or sport that could fill my life with as much as this has given me, which is why I intend to do it for a very long time.
What would you say your biggest driving force is when pursuing this sport?
I enjoy being able to quantify progress. I am a goal oriented individual who needs some sort of control over the direction of my life. There is a sort of validation that comes along with the Jiu Jitsu belt system. Belts and stripes are not simply handed out, and there are expectations of skill, knowledge and presence. My Professor, Scott Gave of Fit 2 Defend Academy, looks at the progress his students make and makes calculated decisions on promotion for an individual. Though I may have some doubts about how he views my own progress, I am somewhat put at ease knowing he would not move me forward if I was not prepared for it.
What do you love most about jujitsu? The people, the impact, the feeling?
I think that as we get older and carry more responsibilities it can be hard to connect with friends. Whether it is because of work or family or just life. Regardless of things going on, I know I can count on 5-6 sessions a week where I can meet up with friends and help each other improve. The social aspect goes a long way to just improving life as a whole, for me.
Do you have any favorite books? (2-3 that you've gifted the most)
The Steve Jobs autobiography was fascinating to me. I find myself influenced and interested in people who are obsessive winners and how they are able to balance their lives with the drive they have for working. I have read The Giver by Lois Lowry more times than any other book. In a way, it forces me to draw parallels in my own life. I can be set in my ways and see the world as black and white and simplified to a level that only makes sense to me. The main character Jonas becomes exposed to the reality of the world and finds understanding and sympathy through emotion. A good lesson for myself, and potentially many others, that comprehension of others realities is never easy to establish from an outward view.
---
---
What methods do you use to stay true/ bring you back to why you started?
Training for powerlifting had become stale and unrewarding. Putting myself through multiple competition preps where I didn't want to even do it is something still fresh in my mind. This reminds me everyday why I enjoy Jiu Jitsu so much and what it does for me, so I am never far away from why I started.
What do you want your legacy to be, what do you want to leave behind?
Legacy is something I have always struggled with. Is it better to be remembered by your name or your acts? Sometimes I find myself believing they go hand-in-hand, while other times I think they couldn't be further apart. I suppose when I am gone I want to be remembered as someone who gave themselves completely to the things and people I held close. I believe that effort and presence are two of the most important things a person can strive for. To be present leaves a memory, and to show true effort gives character to those memories.
What is the mindset that you try to keep throughout your journey?
I am better than yesterday, worse than tomorrow, and well beyond where I could have ended up.
Do you have a favorite quote or saying?
"It does not do to dwell on dreams and forget to live." -Dumbledore
What is something you believe that other people think is insane?
Waking up early can only lead to a good day.
If you could have a gigantic billboard anywhere with anything on it, what would it say?
It is a good day, to have a good day.
What would you do in the event of a zombie apocalypse? haha
Well, considering how bad I am at running I probably would become a zombie before I can come up with a better plan. haha
For all of the people out there who want to make the leap and start pursuing their passions at a higher level, what is 1 or 2 pieces of advice you would tell them?
There is never a right time, and that "leap" you think you need to make is actually just a collection of small steps in the right direction. Not everyone runs head first into something, but the sum of many small steps can lead to a long and enjoyable journey. Better to walk towards something you are passionate about than to stand in a position wondering what could be.